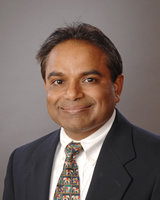 Atul B. Vachhani, M.D.
361 Town Center West Suite 101
Santa Maria, CA 93458
805.922.6581
230 Station Way, Unit B
Arroyo Grande, CA 93420
Dr. Vachhani earned his medical degree from M.P. Shah Medical College in Jamnagar, India in 1992.  He completed his Internal Medicine Residency at the Wilson Memorial Medical Center in Johnson City, New York, and his advanced Gastroenterology Fellowship at UCLA.  Dr. Vachhani is Board Certified in both Internal Medicine and Gastroenterology.
Dr. Vachhani is dedicated to the prevention and early detection of colorectal cancer, the second most deadly cancer in the United States.
He specializes in state-of-the-art, cutting edge GI procedures, including small bowel capsule studies for small bowel disorders , Bravo PH testing for acid reflux, and high resolution esophageal manometry for swallowing disorders.
Dr. Vachhani is married with two children.  He is an avid hiker, having recently climbed Half Dome at Yosemite National Park.  During his free time, he enjoys traveling and spending time with friends and family.